Condx on the 15th of September were not very good despite of promising indexes. So nothing new found (so far). During the weekend I emailed a bunch of reception reports and even got some answers.
567. CBN St. John's NL 640 kHz
CBN is one of the most common Canadians here (with VOCM, 930 CJYQ/CFBC and 1400 CBG). I haven't sent any report to them before this, so I was happy to get a quick replay from Denise Wilson, Managing Director.
568. WIOD Miami FL 610 kHz
WIOD is one of few new NA stations of the season logged so far. Grace Blazer, Program Director replied to me quite quickly. She is also working for 940 WINZ, which should be possible to hear as well.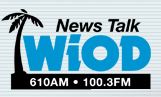 569. YVKH Radio Recuerdos, Caracas 1300 kHz
It has been a challenge to find working email addresses to Latin American stations. I have now heard 26 Venezuelan MW-stations but only got 4 QSLs – almost half of them I have never reached – emails have been bouncing. But YVKH Radio Recuerdos, Caracas replied in 2 days. I believe that this station has been more common in the past, I heard it for the first time on 2.9.2013. V/s was Juan Carlos Bello, Gerente de Mercadeo. Juan Carlos wrote eg.: Es un placer saber que, en lugares tan lejanos a Venezuela, escuchan nuestras transmisiones y esperamos que pueda seguir escuchándola. Un gran saludo desde Venezuela y esperaos que siga encontrando nuevas estaciones que sumar a su contgeo.